Black Rock Shooter 1x1
How Much Louder Do I Need to Shout?
In another world, the eponymous Black Rock Shooter battles a mysterious red-eyed opponent. Meanwhile, in the human world, Mato Kuroi enters middle school and takes an interest in her classmate, Yomi Takanashi. The two quickly become friends due to their common fondness for a book from their childhood. After inviting Mato to her house, Yomi becomes worried when Kagari Izuriha, a wheelchair-bound girl who wants to keep Yomi to herself, arrives and acts with hostility towards Mato, causing her to become frightened. Meanwhile, in the other world, Black Rock Shooter follows a green trail to a wasteland filled with broken toys where she is attacked by a girl resembling Kagari named Chariot. After speaking with the student counselor, Saya Irino, Mato renews her determination to become good friends with Yomi and invites her to go to a festival with her. In the meantime, before Black Rock Shooter can prepare a counter-attack against Chariot, she is stopped by a girl covered in chains named Dead Master.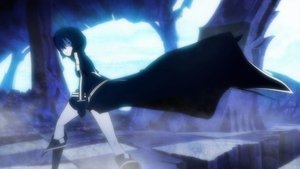 Jan. 28, 2012
Black Rock Shooter season 1